No matter what size your backyard or balcony, potted plants are a must-have.
Easy to care for, move around and create instant impact, you can grow anything from small succulents and pretty flowers to passionflower and fruit trees in containers.
One of the main advantages of container gardening is that you don't need to worry about the soil you have in your backyard, you can add the perfect soil mix for your plant and this will enable you to grow almost anything.
Whether you're planning to fill one pot or a backyard full, here are 10 of the best-potted plants for your space:
1. Olive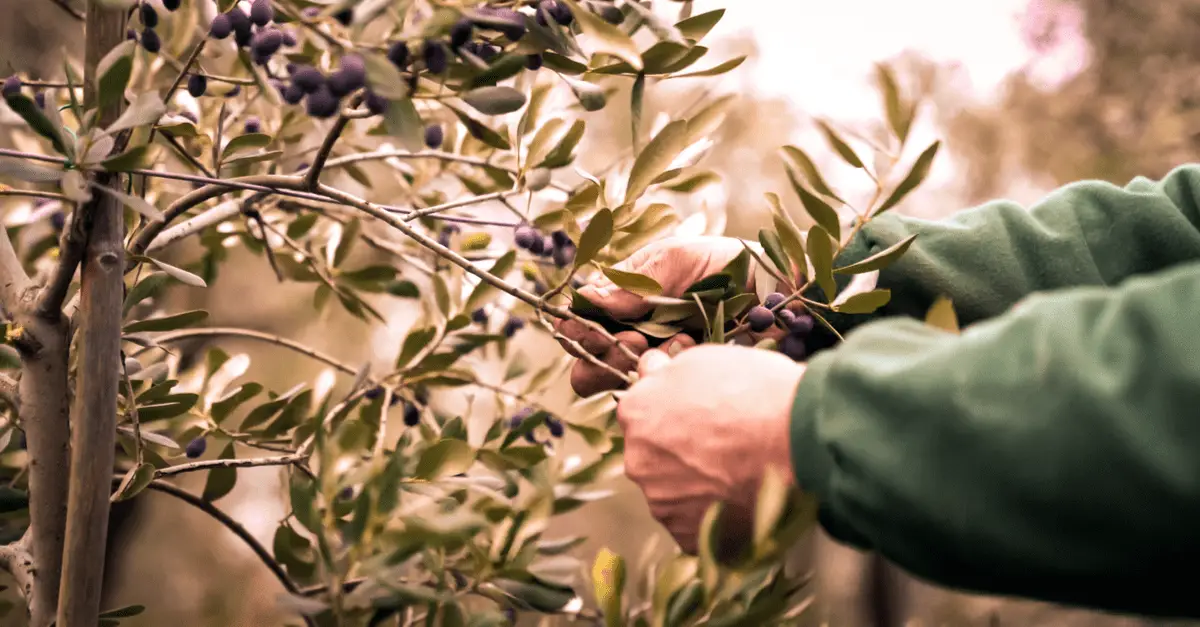 The simple beauty of a potted olive tree is hard to beat. Olive trees add a touch of the Mediterranean to your outside space and as they're evergreen, you can enjoy their foliage all year round.
Olives love the warmth of the sun, needing at least 6 hours a day, and will grow best in US zones 9-11. If you live in a cooler zone, you may still be able to grow an olive tree but it will need a warm, sheltered spot and protection over the winter.
Choose a pot that's at least 20-22 inches in size and ideally made from a porous material like terracotta or wood.
---
2. Boxwood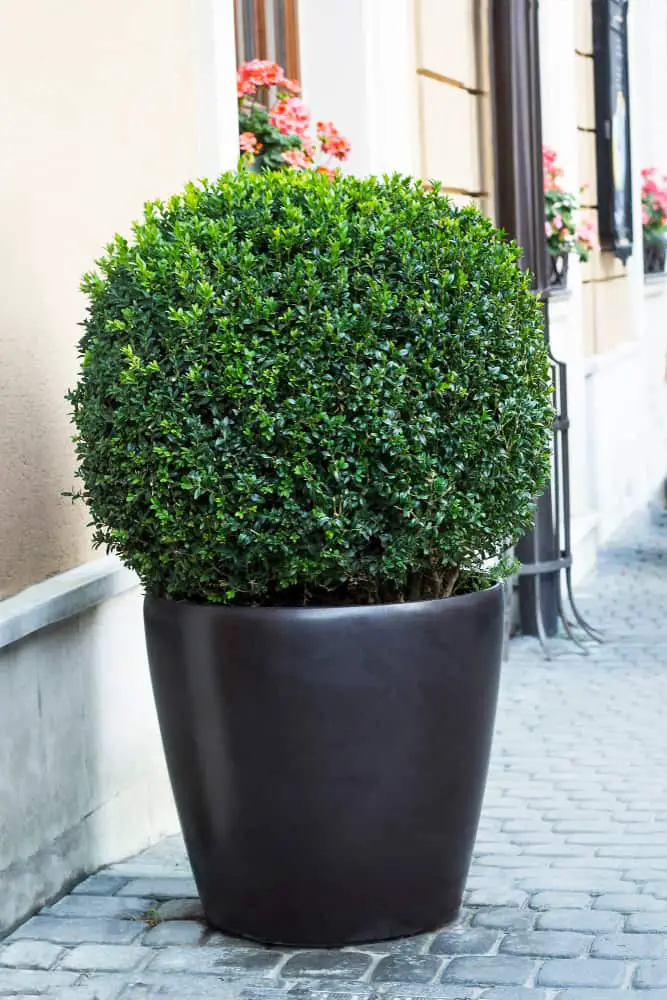 This hardy evergreen shrub will add a touch of elegance wherever it is placed.
Easy to clip into neat spheres or cones (or anything else that takes your fancy!), these plants are extremely easy to care for and will grow in zones 5-9.
They can handle full sun or partial shade although they'll grow a bit 'leggier' in shady spots.
Boxwood bushes look striking combined with hostas and hydrangeas.
---
3. Passionflower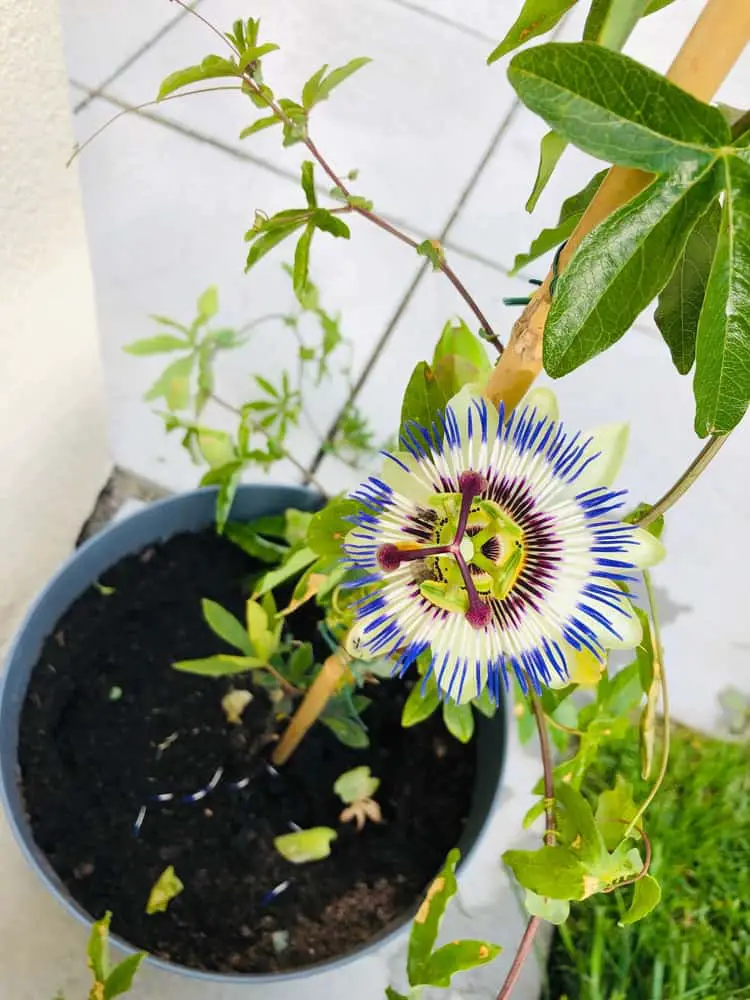 One of the most show-stopping of flowering plants, the fast-growing passionflower vine is a perfect specimen for container gardening.  These plants are native to central and South America and most will grow in zones 7-10 but some can survive up to zone 5.
Plant your passionflower in a large pot and make sure it's near a wall or fence as the vines can grow up to 6 meters long. In fall, you can cut the vines back and bring the pot indoors or cover the roots with a thick layer of mulch for protection.
---
4. Japanese maple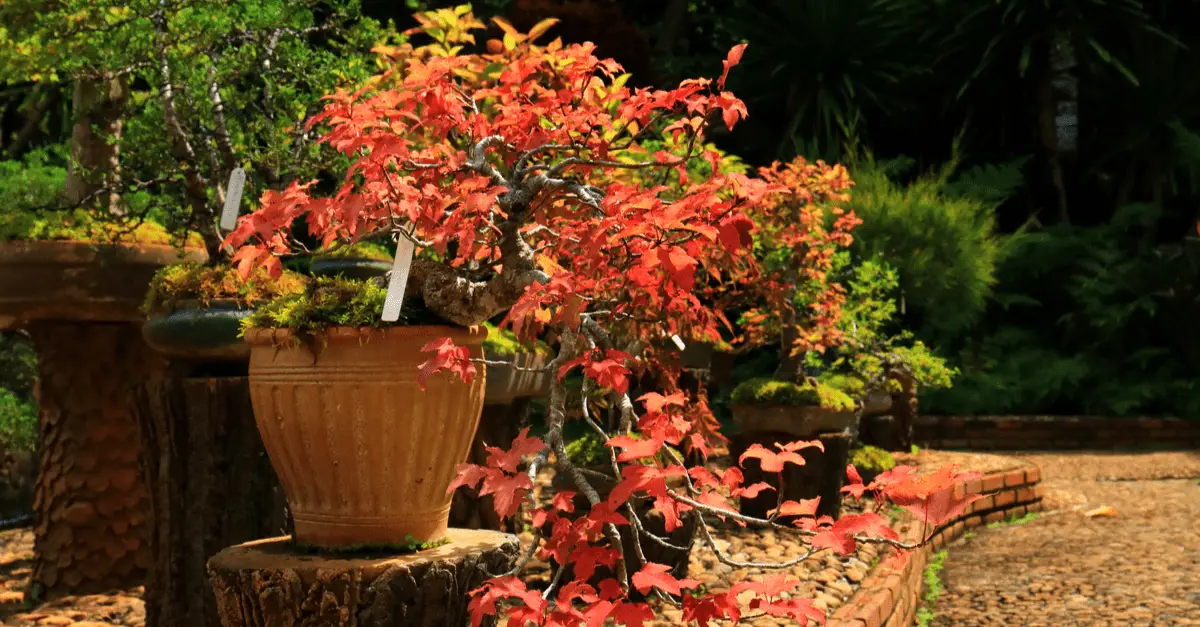 Japanese maples are famous for their magnificent displays of color and they will delight you with their resplendent foliage from spring through fall.
There are over 700 cultivars of Japanese maple (Acer palmatum) and these are hardy in zones 5-8. Smaller varieties are perfect for pots and will 'self-stunt' when their roots are confined.
Japanese maples like a partially sunny spot and protection from strong winds and spring frosts.
---
5. Verbena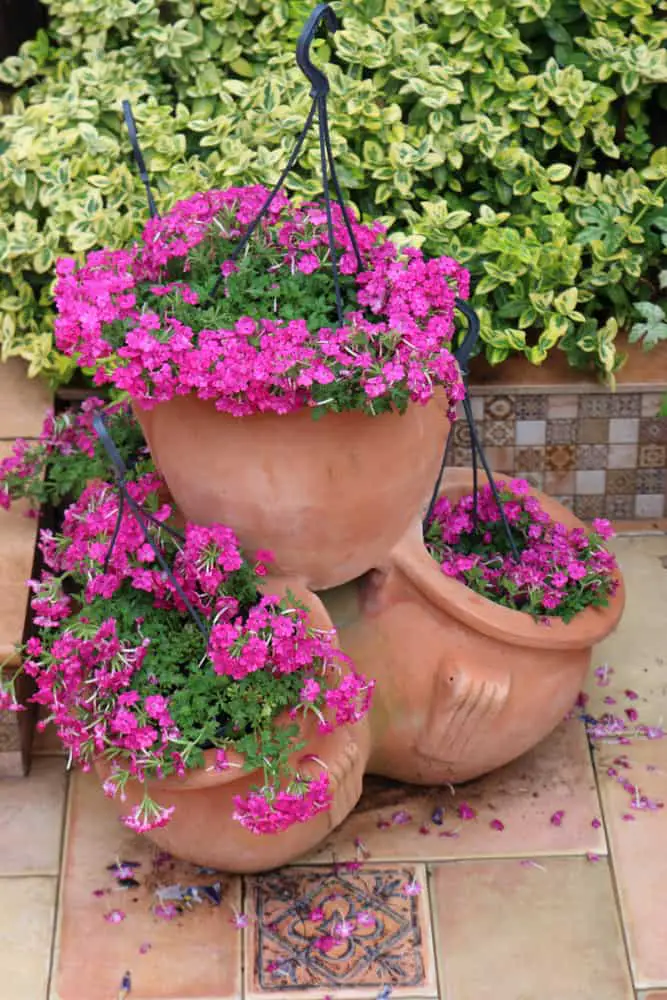 Also known as purple-top vervain, this striking, long-lasting bloomer produces masses of purple flowers on long stalks throughout the summer months. It's hardy in zones 7-11 but can be grown as an annual in cooler zones.
Verbena loves the sun and its purple flowers are a magnet for bees and butterflies.
---
6. Hydrangea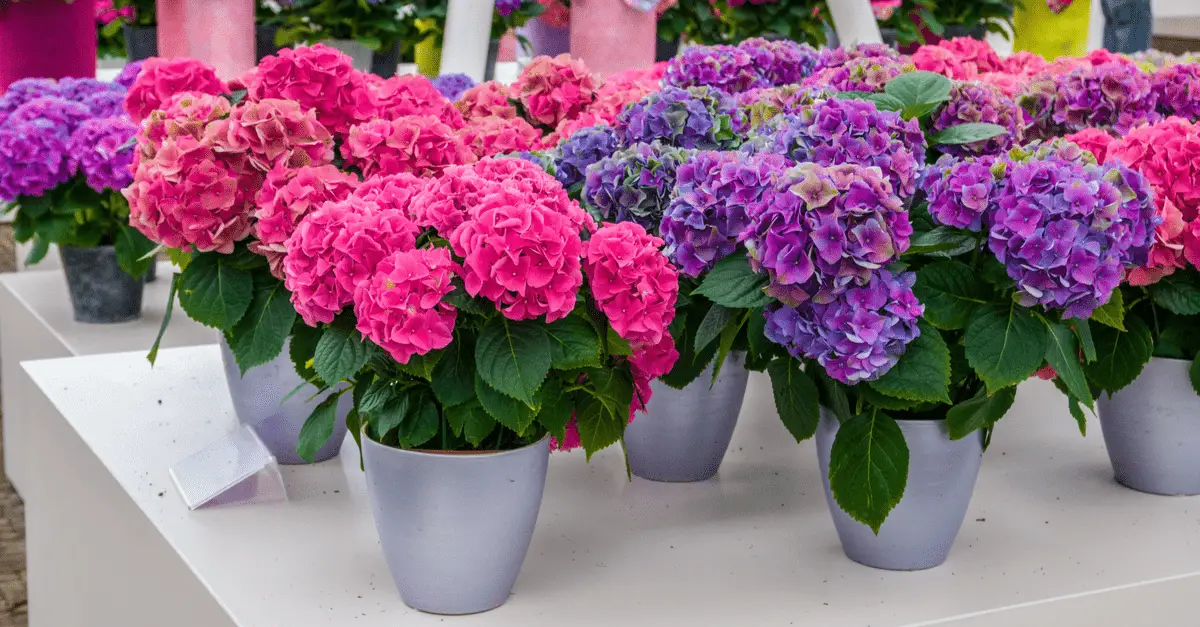 One of the most popular garden plants and for good reason, the showy blooms of hydrangea last long into fall and make beautiful cut fresh or dried flowers.
A perennial shrub, hydrangeas can be clipped into neat topiary shapes or left to grow their own way.
Many varieties are well-suited to container growing and they'll thrive in partial shade with protection from the hot afternoon sun. They'll grow best in zones 6-7.
---
7. Roses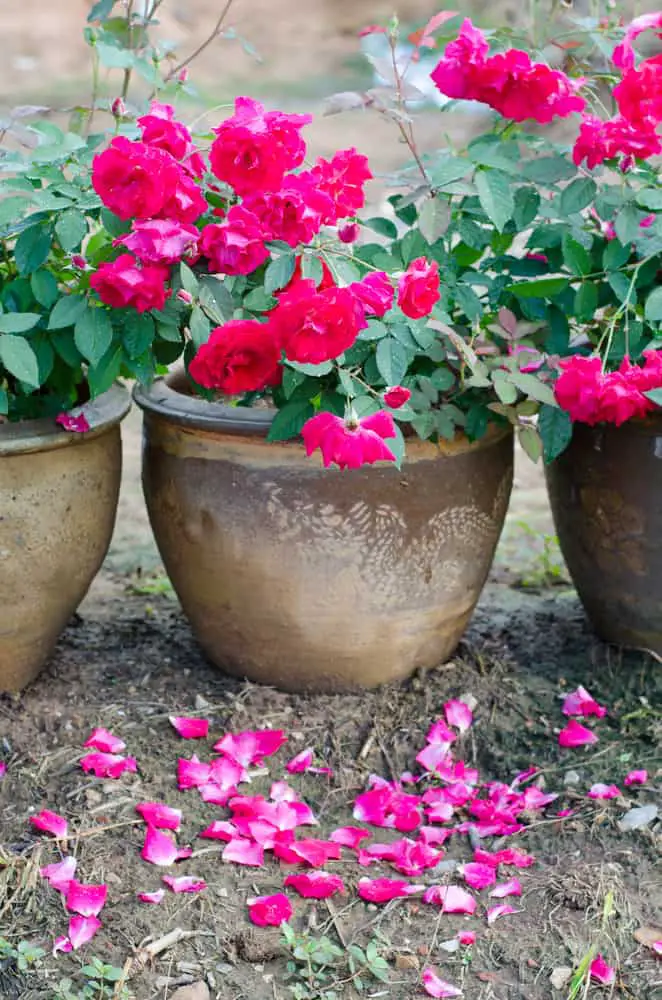 Roses are one of the most beautiful of all garden flowers. You can grow roses in pots but it's best to stick to a miniature or shrub repeat-blooming variety like the Fairy Shrub or Tranquillity English roses.
Roses love rich soil, plenty of sunlight, and a large pot to perform at their best. Most roses will grow in zones 7-9 but there are many that will thrive in other zones so you may need to do a little research depending on where you live.
You can also underplant your rose with beautiful trailing ivy or brightly colored annuals.
---
8. Fountain grass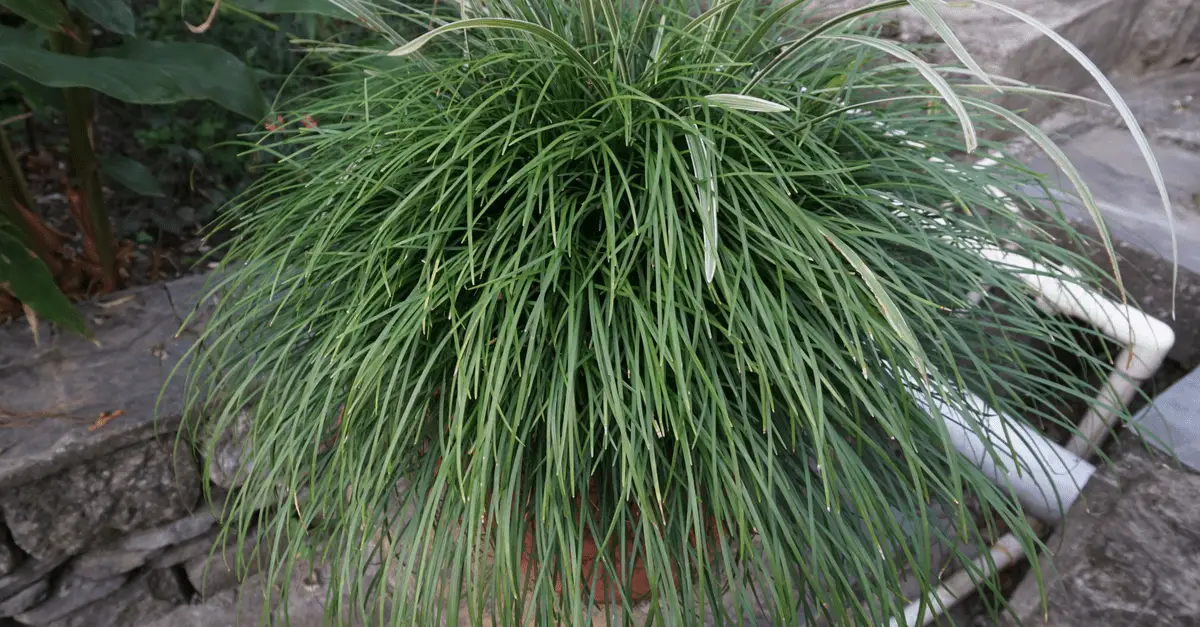 This popular ornamental plant boasts dense clumps of leaves and showy flower stalks.
There are several varieties and different colors to choose from, including the striking purple fountain grass (P. setaceum 'Rubrum.') and the eye-catching pink (P. orientale 'Karley Rose'.)
Fountain grass needs a sunny location for maximum flowering and the sheer number of varieties of this plant means you can find one to grow in zones 4-11.
---
9. Agapanthus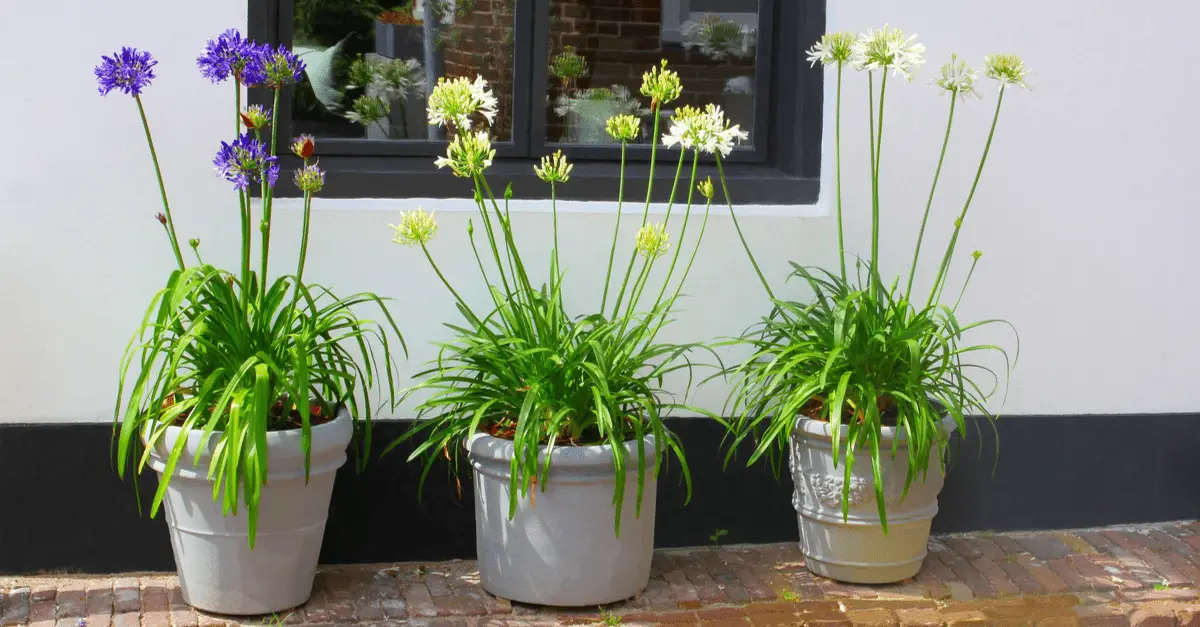 Also known as Lily of the Nile, these exotic-looking, summer-flowering bulbs are a beautiful addition to a pot.
Agapanthus are hardy plants and quite drought tolerant, preferring zones 6-11. Some have evergreen foliage but the deciduous types are tougher.
They're great for adding pops of color to your outside space and like a sunny spot with 6-8 hours of sun a day.
---
10. Hostas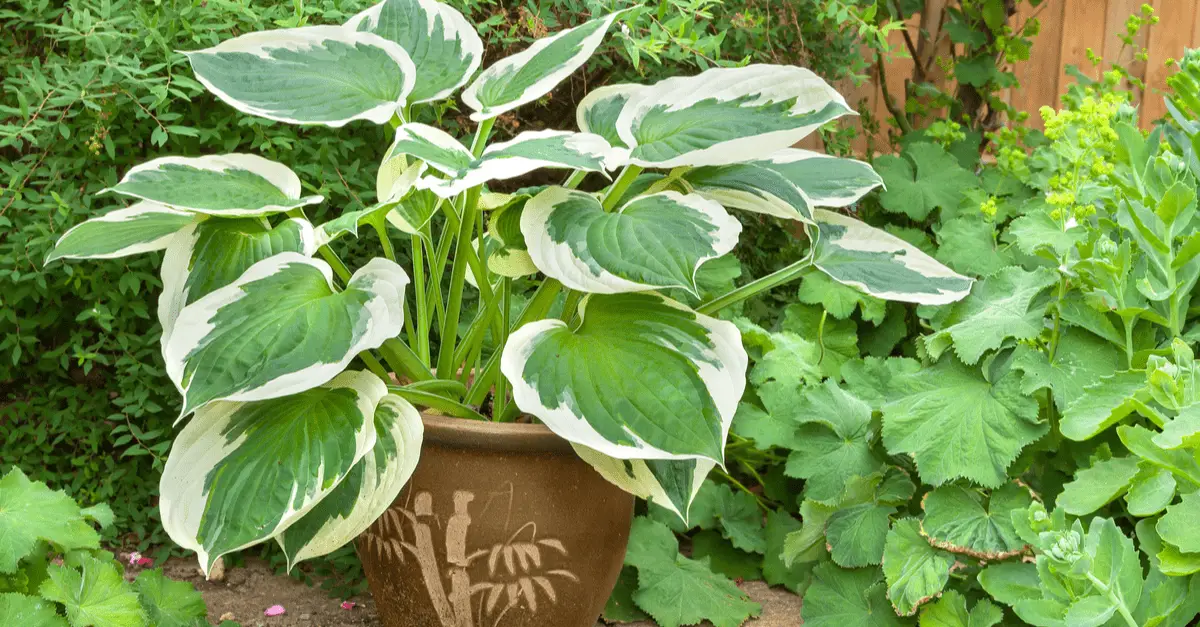 Last but not least, these shade-loving beauties will add a touch of cool sophistication to your backyard. Combine with other shade lovers like ferns and heuchera to add interest to a sunless corner.
Hostas like moist (not waterlogged) soil and rich, organic soil. Slugs and snails adore hostas so you may want to add a strip of copper around your pots to prevent unwanted snack attacks.
---
How to choose a suitable pot
From rustic terracotta to chic galvanized metal and urban-style concrete, there's a vast choice when it comes to planting pots.
Try to choose pots that suit the style of your home and keep it simple by sticking to a couple of different materials for the best effect.
When choosing your pots, select one with drainage holes and make sure that it's big enough for your chosen plant to grow.
Pick one that's between 1 and 4 inches larger than the plant's root mass so it has plenty of room to expand.