Husqvarna ZTRs are very popular among homeowners for their reliable performance and easy maneuverability. But do you know that there are some problems with Husqvarna zero turn mowers? And, are those issues make it a bad mower?
After researching the topic, I have found 6 problems with this brand's products. Also, the problems can be found in most other premium brands. So, that doesn't make Husqvarna bad mowers.
In this article, I have described 6 issues along with their possible reasons and ways to solve them. It will help you be confident about purchasing one and don't regret it afterward.
Before I begin the discussion, you can have a quick overview below.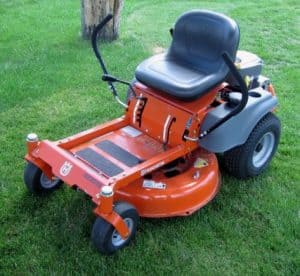 Problems
Reasons
Deck Problem

Faulty blades or improper installation

Worn Out Blades

Fast mowing or poor blade quality

Burnt Lawn

Keeping the zero turn mower in one place for a long time
The defective bottom plate of muffler

Blades Don't Engage

Any issue in drive belts, PTO switch, pulley, or battery

Steering Problem
Engine Doesn't Start

Flooded engine, empty tank, faulty battery, bad connection, etc.
6 Widely Discussed Problems with Husqvarna Zero Turn Mowers
The intent of talking about the issues is not to scare anyone but to educate and be prepared for any situation. Without further ado, let's get started.
1. Deck Problem
For various reasons, you may notice trails of grass after mowing with a Husqvarna ZTR.
It can happen due to improper installation of cutting blades. Also, the blades can become faulty or defective.
The most obvious sign to detect it is by looking under the deck and inspect them. See for nicked, curled, or blunted blades.
According to the manufacturer, one can solve this issue by installing a baffle kit. Also, replacing the blades with new ones can do the trick.
But some customers mentioned that Husqvarna's idea didn't work for them. So, I continued searching for a better solution.
Apparently, I found some suggestions from an expert on the zero-turn mower. He recommends users facing this issue opt for straightening the deck.
2. Worn Out Blades
After a certain period, all blades are destined to wear out. According to the user manual, factory-provided blades should be sharpened after 25 hours of usage.
According to some users, the problem occurs way earlier. I have seen some people complaining about dull blades after only 6 or 7 hours of usage which is unusual.
A probable cause is mowing too high or too thick grass too fast. So, experts recommend users keep the throttle at its highest level but mow at a slower pace.
Also, some OEM parts don't have the highest quality. You can upgrade the existing one by buying a more durable aftermarket blade.
3. Burnt Lawn
Having burnt grasses by mower's muffler is a problem faced by RZ5424's users. Here, you should know that all zero turn models from Husqvarna don't have the same problem.
The nature of the issue is seeing a trail of brown grasses leaving behind.
It can happen due to a faulty hot air reflecting mechanism. The bottom plate around the muffler has the job to direct the heat away from the grass.
Another possible reason is leaving the lawn mower running in one place for longer than usual.
The solution comes either by replacing the faulty part or being careful and not keeping the machine running in one place for a long time.
4. Blades Don't Engage
A few customers and online reviewers mention the zero-turn mower blades not engaging properly.
The reason can be a lot of things. Inspecting different parts is the first step for solving this issue.
One should check the drive belts, PTO switch, pulley, and battery one by one to find out the faulty part. And, multiple components can be the cause of the problem.
From the list of suspected parts, you can understand that they play very important roles in blade engagement.
Also, don't forget to look for clogs due to excessive debris buildups. A simple process of cleaning often solves this issue.
5. Steering Problem
Experiencing some symptoms, you can be certain of the steering problem.
You won't be able to keep the ride straight while driving forward or backward. It will either tend to turn left or right.
Also, the machine can jerk or spin while turning a corner.
The problem can occur due to various reasons. After troubleshooting, one can solve the issue but the task is not easy.
Those who don't have the necessary tools, enough time, or expertise should take the faulty riding mower to a mechanic.
6. Engine Doesn't Start
In one fine morning, you may see that your ZTR riding mower is not starting; not even a click.
As lots of factors need to be working perfectly to ensure a smoothly running engine, it is hard to pinpoint the cause right away.
Let me mention some of the common reasons.
First of all, the engine may get flooded. Secondly, check the level of fuel because an empty tank is of no use.
Then, there is an attachment clutch that can't be set to the disengaged position. Check the control lever to see whether it is neutral.
Moreover, a faulty battery or electrical connection can cause this starting problem.
Is Husqvarna Zero Turn A Good Mower?
In the light of all those reported problems with Husqvarna zero turn mowers, it is logical to ask that question.
Like any other zero turns, it is not unusual to face some difficulties with some Husqvarna models.
A few cases don't make the whole product category faulty or unreliable. According to most of the users, these are powerful and good-performing mowers.
With convenient features, easy-to-use system design, and better build quality have made Husqvarna one of the most desired ZTRs in the market.
People love them because of the comfortable mowing experience. By buying the right model, one can handle large landscaping projects.
Without any doubt, experts recommend these riding mowers for medium to large lawns. So, don't hesitate if you have decided to buy one.
Among different zero-turn mowers from Husqvarna, I recommend Z254 for a few reasons. Let's check them out in short.
26 HP Kohler engine with a max speed of 6.5 MPH
Air-induction mowing technology for reliable performance
Patent-pending effective park brake system
Reinforced steel deck ensuring the highest durability
Discharging, mulching, and bagging options' availability
Final Thought
I hope that you can now understand the nature of the problems with Husqvarna zero turn mowers.
The solutions and possible causes of those issues given in this article can help you solve them without panicking.
If I have missed any important problems to mention, feel free to notify me.
Related Posts: