The average-sized US backyard is approximately 6,000 square feet.
Of course, this varies hugely depending on where you live, ranging from 3,000-5,000 feet in urban areas to 8,000 to 15,000 feet in more rural America. (Source: Backyard Booster)
If you're blessed with a pocket-sized backyard, don't despair! We've put together some clever ideas to help maximize the space you have, helping you make the most of your modest outside spot.
1. Plant vertically
A small yard means limited space for plants. The easiest way to get around this is to be creative with your planting.
If you don't have room for flower borders at the edge of your garden, plant beautiful climbers like wisteria, passionflower, and jasmine up walls and fences instead. These will need a screen or trellis to clamber up.
You can also create a green wall, adding pots of trailing greenery and colorful annuals. You'd be surprised how much you can fit into a small wall area.
Don't be afraid to experiment with shelving too, this is a great way to display a range of favorite plants, from succulents to kitchen herbs.
---
2. Use color
Colour is a powerful way to create the illusion of space.  Using darker colors can make an area feel more cramped so paint walls, fences, and sheds white or cream to help bounce light around and instantly make the space feel larger.
You can complement this with pots of light-colored plants and bright flowers that will pop against a pale backdrop.
---
3. Add mirrors
Mirrors are a super simple and effective way to make a space appear bigger. You can add a large statement mirror to a wall or hang several smaller mirrors along a fence.
You may want to angle your mirror so it doesn't reflect the trash cans!
---
4. Get creative with storage
Clever storage is key when it comes to small spaces.  From slimline sheds and garden furniture with integral storage to vertical storage solutions like shelves, there's plenty of choice for stylish ways to store your garden tools and cushions.
You can easily fix shelving and window boxes to the outside of a shed, or train a beautiful climbing plant up it to maximize your available planting space.
---
5. Think big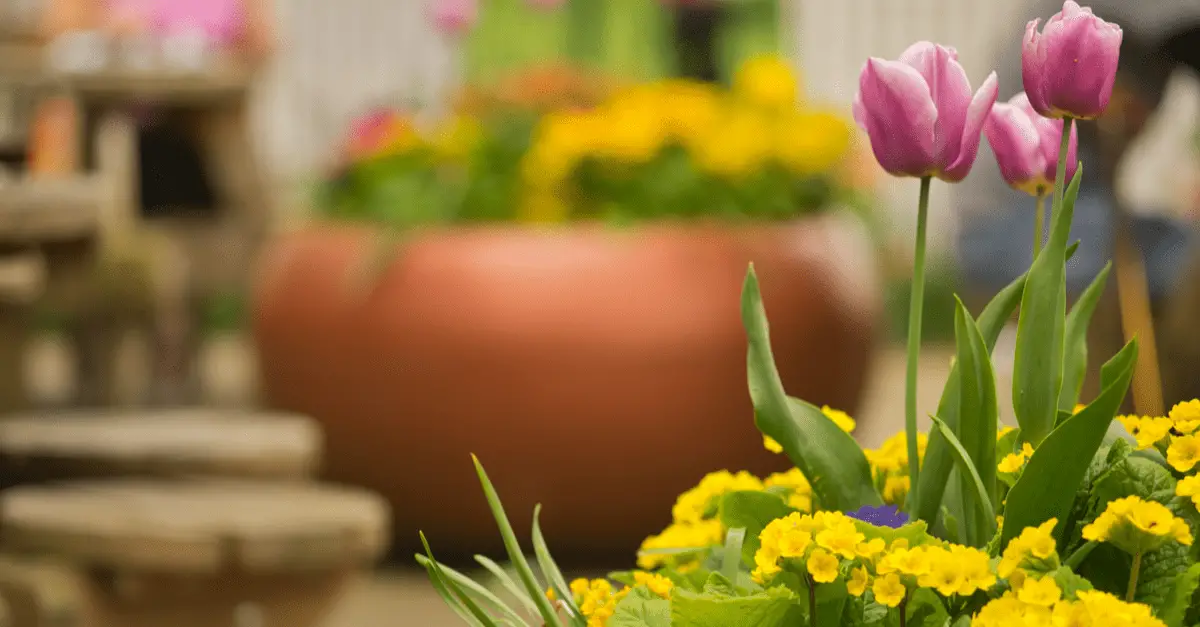 Sometimes adding a collection of smaller pots can make an already small space feel cluttered and cramped.  An easy way to fix this is to choose fewer, larger pots in the same color and style, helping to create a united garden scheme and making the space feel bigger.
Choose large plants too; although it may seem counterintuitive to fill a small space with large plants, it can actually make it feel much bigger.
---
6. Create zones
Although having an expanse of patio or lawn may be appealing, if space is tight, it can make a small space appear even smaller.
Try playing with different levels, perhaps installing a raised seating area, or choosing an informal planting style with a selection of plants at different heights.
You can also use outdoor rugs to soften the space and create instant zones for reading, relaxing, or eating.
Hiding a part of the garden, with a tree or screen, or dividing it into a series of 'rooms' will obscure the full size of the garden and help it seem much bigger than it really is.
---
7. Add an optical illusion
If you've got a large wall and creative flair, consider painting a beautiful trompe l'oeil to create the illusion of a garden that extends far beyond your backyard. You can create a similar effect with a cleverly placed mirror.
Laying paving slabs diagonally or installing a diagonal or curved path will also help to make a space appear larger than it really is.
---
8. Light it up
Clever lighting is a simple and effective way to make a small space seem bigger.
Try stringing lights above a dining area or high up on a fence. It'll encourage you to look up, rather than across, instantly making the space appear larger.
Try illuminating large pots, plants, and walkways, and consider adding recessed lighting to steps and decking.
---
And finally, be realistic
In small spaces, less is most definitely more.  It might be tempting to try and cram as much as possible into a small garden, but it will end up as a cramped, impractical space.
Think about how you'll be using your backyard, if you have children, you'll probably want to include a play area, there are some clever solutions from playhouses that fit into corners to sandpits that double up as tables.
If you're a keen gardener, you might want to avoid a lawn, opting instead for a range of planting areas at different heights and if you love to eat outdoors, prioritizing space for a table and chairs is the way to go.
Don't forget to factor in storage. It's easy to overlook but somewhere to store pots, tools, and cushions is essential.