Lots of big brands make lawnmowers but do you know who makes the best riding lawn mower? After going through several popular models, I have short-listed 4 companies as the finalists.
They are known for their mower's performance, reliability and durability compared to other competitor models. Now, please don't take my words for granted.
I have checked those 4 manufacturer's backgrounds and gathered important facts to write this article. So, have a quick read, and decide whether my decision is acceptable or not.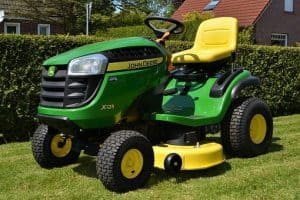 Who Makes The Best Riding Lawn Mower?
The type and length of the yard or land area is a core fact to consider the lawnmower's correct model or brand. There are other vital factors like engine power or capacity, performance quality, deck size, maintenance, etc.
But if we consider who makes the best mowers, then several top companies such as Husqvarna, MTD, John Deere, or Briggs & Stratton make most of the sold and retailed lawnmowers in the USA. They also provide a wide range of products based on different quality and pricing range for the mass customers.
Where Are Riding Lawn Mowers Made?
Since most lawnmower producing companies are US-based, their products are mostly made in homeland factories. But with the increasing market demand, some of them even have manufacturing factories in Europe, Mexico, or China.
For example, top companies like Husqvarna made all their products in Orangeburg, South Carolina, McRae, Georgia. The parent company of Cub Cadet Corporation, MTD produces its products in the USA, Europe, Mexico, and china. Also, John Deere manufactures more than 80% of lawnmowers in Waterloo or Lowa.
About The Manufacturers
Let's have short background knowledge of some of the prominent manufacturer of riding lawn mowers-
Husqvarna Group
is a Swedish manufacturer of lawnmowers with different cutting methods, from push lawnmowers to all garden lawnmowers. It also offers outdoor power products like chainsaws, trimmers, brush cutters, cultivators, etc.
Husqvarna started in 1689 as a weapons foundry. In 1918, Husqvarna acquired the Swedish company Norrahammars Bruk and added lawnmowers, the human-powered variety, as their new product range. The first motorized lawnmower for commercial use was launch in 1947, and in 1959 the first homeowner model reaches the market.
MTD Products Inc®
is another top leader for designing and manufacturing outdoor power equipment such as lawnmowers and snow blowers. It was founded in 1932 in Cleveland.
It is a mass-market focused lawnmower manufacturer and entered the lawn and garden power equipment industry in 1959 with an 18″ power rotary mower. Eventually, in 1959 It started manufacturing self-propelled lawnmowers, garden tractors, and other power equipment.
John Deere
is another prominent manufacturer of riding lawn mower. The brand name of Deere & Company, an American corporation that manufactures farm machinery and industrial equipment. John Deere invented the first steel plow that could till American Midwest prairie soil without clogging in 1836. Later on, John founded the company with Charles Deera in 1837.
Briggs & Stratton
is the world's largest producer of air-cooled petrol engines for outdoor power equipment. The Company designs, manufactures, markets, and services their petrol engines worldwide. It was launched initially in 1908 in Milwaukee, Wisconsin, by Stephen Foster Briggs and Harold M. Stratton. Their founding principles are power, reliability, and durability.
What Are The Best Riding Lawn Mowers?
Several lawn mowers can be on this list based on the features and consumer reports, but I have decided to sort out the list in three. Let's have a look at the core features of the out top three mowers-
The Troy-Bilt Pony 42X Riding Lawn Mower with 42-Inch Deck and 547cc Engine Tractor
An extra-large 54-inch staggered side discharge mowing deck.
Foot-controlled hydrostatic transmission.
Premium  420cc Troy Bilt OHV engine with oil filter engine with fully operator-controlled Mow in Reverse capability.
Cub Cadet XT1 Enduro Series Gas Front-Engine Riding Mower (Lt 42 In. 18 Hp)
This mower comes with a 42″ stamped, twin-blade deck.
Loaded with an 18 HP Kohler® engine for powerful performances.
Has a Hydrostatic transmission means no shifting needed. Just push the pedal and go.
Has an 18.5 HP* V-Twin extended life series engine.
Also, a deep deck design with three blades lifts grass for a superior cut
Fast and convenient service with 30-Second Oil Change System.
Frequently Asked Questions (FAQs)
Who makes the best riding lawn mower engine?
Honda makes an excellent choice for homeowners who want self-propelled mower engines, but those can be costly too. If you want a cheaper option with good performance, you can also consider other brands like Briggs and Stratton or Kawasaki.
Who makes the best riding lawn mower battery?
We should consider the performance, capacity, and life warranty while choosing the best one and need to check whether the battery's recommendation matches with our mower or not. But if you want some better brand name suggestions, look at Ryobi, SF Sonic, Mighty Max, or AGM technology
Who makes the best small riding lawn mower?
The Snapper 2911525 BVE is the current best small lawnmower and made by Briggs & Stratton Corporation. It is designed for ease of use, a 5-speed drive system, and a small but highly effective 28″ cutting deck
Who makes the best residential riding lawn mower?
There are several high-quality lawnmowers, but if you are looking for a residential riding mower, Cub Cadet XT1 Enduro Series LT 42-in can be your best option. In case you're more interested in budget-friendly, then Troy-Bilt Pony 42-in both are made by MTD Products.
Who makes the best zero-turns riding lawn mower?
Husqvarna made one of the best zero-turn riding mowers, and their Husqvarna Z254 Zero Turn Mower can maintain lawns up to 4-acres in size also comes with the Kawasaki 21.5-hp motor that can trim the grass entirely.
Final Words
I know the ultimate purchasing decision will be yours. To make that task more comfortable, I have provided all the details you may ask for, like who makes the best riding lawn mower and other details about the manufacturer. IF you have any further query feel free to comment below.
Related Posts: